A Quote:

Happiness is made to be shared.
Letecia lives in Ojai, where the time now is:
04:09AM


Unique Readers:


Recent Search Engine Searches:

Primarily
Public Domain

Everything I've written here is hereby placed in the public domain. The quotes from other people's writings, and the pictures used might or might not be copyrighted, but are considered fair use. Thus the license here would best be described as:
Primarily Public Domain.
---
WebLog Resources:
NCN NewsLogs
Weblogs.com
blo.gs
Technorati
Organica
DayPop
Blogdex
PopDex
Blogging Ecosystem
BlogTree
BlogStreet
BlogWise
BlogChalking
Wander-Lust
---
| | |
| --- | --- |
| Thursday, July 24, 2008 | |
---
24 Jul 2008 @ 03:30
A new advisory board for the Fellowship of Isis has just been chartered in the United Kingdom. It is called 'Star of Elen.' I received notice of the charter and new board this morning.

A new page on the COI website provides information.

The creation of this board is another step in the decentralization process, as directed by FOI co-founder Rt. Rev. Olivia Robertson.

Heartfelt Congratulations to all the members of the Star of Elen!

(Thanks to Linda Iles who sent out this announcement)


24 Jul 2008 @ 03:14
Dear Friends,

I HATE to ask for donations... because I am sure all of you are melting down financially also.

Here is the situation:

When I started up Propheckeepers Radio and Foundation, I asked for free will donations enough to keep it going.

That didn't work very well.

Robert Ghost Wolf told me that I needed to get a sponsor, because in his vast experience, getting people to donate on a regular basis to a native american charitable effort just did not work.

This "Native Prophecy Council" Yahoo list has always had about 500 members, and I originally asked for a few (5) bucks a month from each member... and from early 2004 to the fall of 2005 5-6 people beared the total burden for hundreds of others listeners, which I did not feel was fair, be we soldiered on.

After we found a good sponsor we felt good about which was helping people with their health with Micronutra.com and began running ads, things looked up for quite a while... until my wife required 24 hour care for over a year in early 2006.

For 2.5 years we had an ample income to support to do a lot of things you didn't know about -- our charitable giving to other native non- profits and some elders, travel, our websites, hosting, domain names...

...UNTIL 2/29/08 when the head of www.Micronutra.com was arrested and we lost two months income... thousand of dollars gone -- in an instant. We ave never been paid for this and never will.

Betty passed away not long ago, and we lost our Micronutra income shortly after that.

If it was not for my church helping us for 90 days in April/May/June, we would have gone belly up right then... but the church helped as long as their rules said they could.

Then the economy fell apart not long after our problems with Micronutra.com started.

On 6/20/2008 I was able to get some Water4Gas ad space donated over at www.Rense.com... and that worked for a few weeks... but that is now floundering.

We just lost www.wovoca.com ... the Native Prophecy Net Center, and soon I will lose many other supporting natural health related domains (over 100 total) and we will not be able to pay for hosting for the archived wisdom interviews at www.prophecykeepers.com which is coming up soon.

This also means that all of Robert Ghst Wolf's domains will disappear also becasue they are osted by Prophecykeepers also.

This Native Prophecy Council yahoo group will be dismantled just before I lose internet access in a few days.

Folks... all this effort has always required money...

But unfortunately, most people on this group are poor or on a fixed income, etc. and said from the outset that they could not help... and only a handful were able to help us.

Truth be known, I never could figure out how 475 people could afford a computer and Internet access... but could not afford to send us $5.00 a month faithfully... and neither could a few other group members who stuck up for Prophecykeepers and also asked for donations. That didnt work well either.

So, I guess Prophecykeepers has done what we could for the world when we could, and we have to face that all that may be coming to an end.

I wish all of you well.

I hope a few donations will come in to keep things chugging for all the people out there who are waking up late.

I will not be asking another time.

I am so grateful or your support in the past -- whether in dollars in in prayers -- in the past.

I feel like we all gave birth to this baby which is called Prophecykeepers -- together.

You can make a donation at [link]

OR you can go to [link] and do yourself a favor and learn how to save 50% on gasoline.

Or you can go to www.getridofpoorhealth.com and buy something to boost your health... with FREE Ayurveda doctors consultations.

I don't mean to be negative, but I really think we are coming to the end of Prophecykeepers. One of you on this list will be very happy to hear that...yes folks, we have a witch on our list who keeps burrowing in anonymously and gleefully sends me hate mail.

Isn't that nice? Unfortunatley, this kind of disgusting thing is part and parcel of Indian life today.

Prophecykeepers is not alone... we have worked hand in hand with Grandfather Red Elk for a long time... and he has always had the same problem... lack of support, lack of caring -- an overall attitude of "the universe will take care of RedElk" but he confided that the people who think that way dont understand that THEY ARE the Universe... and it is their stewardship that is needed.

And that made RedElk very sad, and has always been very discouraging for me also... becasue he and I KNOW we have a LOT of "answers" for mankind... if only our message can be heard.

I know, I know... I am gonna be hearing from several of you, all saying I am not "manifesting wealth" properly... I wasn't thankful enough...

...but I assure you we have been using every method, technology, prayer, affirmation... and still we are sinking.

My teacher Grandfather Rolling Thunder ("RT") was said by many to be the greatest medicine man of the 20th century... and he had the very same problem... thousands of people resonated with his message... and only a very small handful ever helped financially.

"RT" said that thousand "talked the talk," but only dozens "walked the walk..." but then Rolling Thunder said "it has always been so."

I guess it is just time to let Prophecykeepers die a natural death... unless maybe?

You old friend,

Will Blueotter


---
| | |
| --- | --- |
| Monday, November 26, 2007 | |
---


26 Nov 2007 @ 19:53
TBP will be on hiatus until the corporation status and financial problems have been resolved. I am currently not accepting any new subscriptions or submissions until this is straightened out. If you would really like to help TBP, BUY BACK ISSUES!! I have two storage spaces full of them! Even if you have a set, buy some for someone else for Christmas! Buy some to donate to your local library (could be tax deductable). Buy something from our [link]!If you don't see an item or cover you would like - let me know and I will make it.

Current Subscribers: You have three choices. I can issue you a pro-rated refund. You can donate what's left of your subscription so I don't have to issue refunds out of my own pocket, or you can wait it out and your subscription can start back up if the magazine does. You can contact me at editor@thebeltanepapers.net to let me know what you want to do.

OTHER KINDS OF HELP

Corporation Officers: TBP needs at least three corporation officers to continue the corporation that exists or to create a new corporation. This time the corporation officers need to be involved in TBP, not just a name on a paper. I would prefer people with non-profit corporation experience, but any corporation experience would be good.

Money: TBP is out of money. I have paid out of my own pocket close to $3,500.00 just this year alone. I hope to collect at least $1,000.00 from distributors for issues 40 and 41 but they are slow to pay and I will be shelling out another $900.00 to the printer in order to keep TBP's credit ( and my own good name) clean. I would love to see someone else, anyone else show this kind of support. Marione and I have put in well over $10,000.00 over the years, without even being able to deduct it from our taxes. I challenge everyone to provide some financial support to TBP as a demonstration of just how much TBP means to you - this is a "put your money where your mouth is" kind of challenge!

SAVE TBP!!! Donate

NOTE: You cannot deduct these donations from your taxes as TBP has not obtained it's Federal non-profit status yet.

Business Manager: I would prefer this person to be a corporation officer, but they don't have to be. This person would take care of the financial books, accounts receivable and payable.

Advertising/Marketing Manager: This person would aggressively pursue paid advertising and new distributors. Without paid ads TBP will not survive.

Editors/Proofers: There are no more volunteers to do this work. Without editors pursuing content and proofers proofing content, there will be no TBP.

Production Personnel: The actual production of TBP is an arduous task. When it is done by the same person over and over it can be overwhelming. It would be wiser to have two production people or teams that can alternate production responsibilities. Your should be familiar with Photoshop, PageMaker and Adobe Acrobat Professional for creating PS and PDF files for press. TBP can supply these programs for the Windows platform.

Subscription and Back Issue Fulfillment: This person will send out back issues as ordered and subscriptions that are requested in between issues. Currently back issues are stored in Bellingham and Kirkland, Washington at $100.00 per month. They could be moved, but it could be expensive to do so.

NOTE: None of these are paid positions. TBP is an all volunteer organization.

Thank you for your support, Lisé (editor@thebeltanepapers.net )


---
| | |
| --- | --- |
| Monday, November 24, 2003 | |
---

24 Nov 2003 @ 12:07
Indo-Asian News Service, November 11, 2003

Union Minister of State for Human Resources Sanjay Paswan faces possible arrest after an NGO complained to the police, charging him with promoting witchcraft.

Police sources here said its officers had been ordered to collect evidence in this connection and the minister's arrest could not be ruled out.

Paswan had felicitated 51 practitioners of witchcraft at a function here in September to mark the birth anniversary of former chief minister Bhola Paswan.

However, Sanjay Paswan justified his action, saying witchcraft was "pure science" - a comment that angered people across the country. He also vowed to introduce a course on witchcraft in schools.

The Bihar unit of the International Association of People's Lawyers lodged a complaint with the Gandhi Maidan police station to stop the function, but it was held nevertheless. The complaint was directed at Paswan as well as all those he felicitated, including Mumbai-based Surya Yogi, a practitioner of sun yoga.

Critics accused the minister of violating the Prevention of Witch Practices Act, 1999, of Bihar. Bihar Police are also to act on a public interest litigation filed against Paswan's function by a women's organisation in the Patna High Court.


---
| | |
| --- | --- |
| Tuesday, November 18, 2003 | |
---
18 Nov 2003 @ 08:58
BOSTON -- The highest court in Massachusetts has ruled that same-sex couples are legally entitled to wed under the state Constitution, but stopped short of immediately allowing marriage licenses to be issued to the seven couples who challenged the law.

For full details check here


---
| | |
| --- | --- |
| Saturday, November 15, 2003 | |
---

15 Nov 2003 @ 00:01
By Samisoni Pareti Associated Press November 13, 2003
NABUTAUTAU, Fiji (AP) - Villagers in a remote Fijian community staged an elaborate ceremony of apology Thursday for the relatives of a British missionary killed and eaten here 136 years ago.

The Rev. Thomas Baker and eight Fijian followers were killed and devoured by cannibals in 1867 in the village of Nabutautau, high in the hills of the South Pacific island of Viti Levu. Residents say their community has been cursed ever since.

In a mixture of ancient pagan and modern Christian rites, the villagers have staged a series of ceremonies hoping to erase the misfortunes they believe have kept them poor.

The rituals - which started about a month ago - culminated Thursday with the offering of cows, specially woven mats and 30 carved sperm-whale teeth known as tabua to 10 Australian descendants of Baker.

``This is our third apology but, unlike the first two, this one is being offered physically to the family of Mr. Baker,'' Ratu Filimoni Nawawabalavu, the village's chief, told The Associated Press.

Nawawabalavu is the great-grandson of the chief responsible for cooking the missionary in an earthen oven.

Past apologies have not helped. In 1993, villagers presented the Methodist Church of Fiji with Baker's boots - which cannibals tried unsuccessfully to cook and eat.

There are differing accounts of Baker's demise. A villager said last month the incident started when the chief borrowed Baker's hat. Baker tried to take it back without knowing that touching a chief's head was taboo and punishable by death.

Others say the missionary lent the chief a comb, then touched his head as he tried to retrieve it from the chief's tight, curly hair.

Villagers believe that since 1867, either Baker's spirit or disapproving gods have made sure that modern developments like electricity, a school, piped water supply and other essentials enjoyed by most Fijian villagers have been kept from them.

It was only two weeks ago that a logging company cut a track to the village. Prime Minister Laisenia Qarase, who flew into the village by helicopter for the ceremony, is leading a campaign to improve life in isolated areas.

Fiji, a nation of 320 islands, is about 2,250 miles northeast of Sydney, Australia.


---
| | |
| --- | --- |
| Saturday, March 29, 2003 | |
---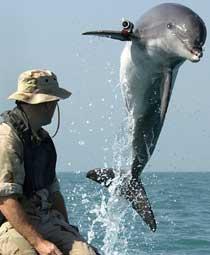 29 Mar 2003 @ 19:28
Here is a follow up to an article I posted on March 25. Seems Takoma is a conscientious objector.

Times Online reporter Daniel McGrory says:

The US Marines have suffered an embarrassment with reports last night that one of their most prized investigators may have defected.

Takoma, the Atlantic bottle-nosed dolphin, had been in Iraq for 48 hours when he went missing on his first operation to snoop out mines.

His handler, Petty Officer Taylor Whitaker, had proudly showed off Takoma's skills and told how the 22-year-old dolphin was among the most pampered creatures in the American military.

Takoma and his fellow mine hunters have a special diet, regular medical checks and their own sleeping quarters, which is more than can be said for the vast majority of the military whose domestic arrangements are basic, to say the least.

The wayward Takoma set out on the first mission with his comrade, Makai, watched by the cameras as the pair of dolphins somersaulted over the inflatable dinghy carrying their handlers.

Takoma's role was to sweep the way clear for the arrival of the Royal Fleet Auxiliary, Sir Galahad . US officials had said that dolphins, first used in Vietnam, were a far better bet than all the technology on board the flotilla of ships.

Petty Officer Whitaker had tempted fate by saying: "Why would they go missing when they have the best food and daily spruce-ups and health checks?" Two hours later Takoma had gone Awol. "Twenty-four hours is not unusual," a nervous Petty Officer Whitaker said. "After all, he may meet some local company."

Takoma has now been missing for 48 hours and the solitary figure of Petty Officer Whitaker could be seen yesterday patting the water, calling his name and offering his favourite fish, but there was no response.


---
| | |
| --- | --- |
| Friday, March 28, 2003 | |
---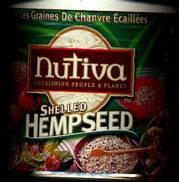 28 Mar 2003 @ 16:39
Industry feels confident and anticipates victory in Ninth Circuit Court of Appeals

Sebastopol, Calif. (March 31, 2003) – With the U.S. military invasion of Iraq underway, the government's Drug Enforcement Administration (DEA) is waging a controversial war on another front and hoping that the public is too distracted to notice. On March 21, 2003, the DEA issued a final rule regarding the legality of hemp foods – whose popularity is growing rapidly – in the United States. The new rule seeks to ban the sale of all hemp food products and to prohibit the importation of hemp oil for cosmetic manufacture. The effective date of the final rule is scheduled for April 21, 2003.

Yet, according to hemp food supporters, the DEA is trying to regulate "a grain of sand in a whole truckload." Says John W. Roulac, hemp author and founder and president of hemp-food manufacturer (http://www.nutiva.com|Nutiva}.

Congress exempted non-viable hemp seed and oil from the Controlled Substances Act (CSA – see 21 U.S.C. 802(16)) because it recognized that trace concentrations of THC, the psychoactive ingredient in marijuana, in hempseed are insignificant (at a few parts per million) and non-psychoactive. The hemp exemption was provided in the same manner that Congress exempted poppy seeds from the CSA, despite the fact that they contain trace opiates otherwise subject to control.

"One would think that the Bush Administration's DEA has more important things to do than attack America's growing hemp-food industry," says Roulac. "Hemp is a health-promoting, non-drug, earth-friendly crop for food and fiber that can help create new jobs and add to farmers' income," he adds. America's leading hemp food brand, Nutiva, offers certified-organic hemp and flax food bars, organic hemp oil and shelled hempseed. In 1999, Nutiva introduced the first hemp food bar in the U.S. and has since sold more than two million bars.

Due to what the hemp industry believes is the weak legal footing of the DEA rules, Roulac and his fellow industry leaders are optimistic that the Court will invalidate those rules. The DEA's new "final rule" is nearly identical to an interpretive rule that the DEA issued in October of 2001. The Ninth Circuit Court of Appeals issued a "Stay" of the DEA's interpretive rule in March of 2002. Now, the Hemp Industries Association is once again rallying its forces for another legal battle to stay, and ultimately overturn, the DEA's unreasonable rule. "The U.S. is a 'Lone Ranger' on the hemp issue," notes Roulac. "Every other major industrialized nation allows hemp agriculture and commerce." More >


---
| | |
| --- | --- |
| Tuesday, March 25, 2003 | |
---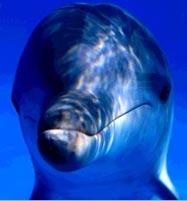 25 Mar 2003 @ 20:05
Reuters reports:

"Forget precision bombs, unmanned spy-planes and high-tech weaponry, the U.S. army is about to unveil its most unlikely mine detector -- all the way from San Diego, California, the Atlantic Bottle-Nosed Dolphin.

At the southern Iraqi port of Umm Qasr, secured by U.S and British forces after days of fighting, soldiers made last-minute preparations on Tuesday for the imminent arrival of a team of specially trained dolphins to help divers ensure the coastline is free of danger before humanitarian aid shipments can dock.

I found another article from The Smoking Gun:

SAVE THE EMBEDDED DOLPHINS!

MARCH 25--When The Smoking Gun learned today that coalition forces in Iraq had embedded sea life in the drive to oust Saddam Hussein, we wondered how long it would take People for the Ethical Treatment of Animals to leap to the defense of mine-sweeping dolphins and sea lions.

As it turned out, PETA took about three minutes to provide us with a statement attacking the military practice of using marine mammals to look for and mark mines that now dot shipping lanes in the Persian Gulf. Along with troops and military equipment, humanitarian aid is also passing through that channel.

Here's what PETA has to say:

"Our troops deserve the best defense possible, but PETA opposes the use of dolphins, sea lions, or any other marine mammals. The project is cruel and cannot provide a reliable defense or surveillance for our troops. The Navy claims they are not putting these animals in harm's way, but they've removed these animals from their homes, relocated them to foreign waters in the Persian Gulf, and are forcing them to not only inspect the waters, but to actually swim up to potential terrorists under the water, clamp a cuff on their leg, and deploy a floating marker. How can anyone say these animals are not being put in harm's way?

The bottom line is that dolphins cannot provide a reliable defense. These are living beings with minds of their own, and though they are incredibly intelligent, they have no idea that lives will be lost if they fail to perform tasks properly. Yet, the military wants to rely on the actions of these animals in order to protect our troops. Our troops deserve the best defense possible and this isn't it. The animals and our troops deserve better."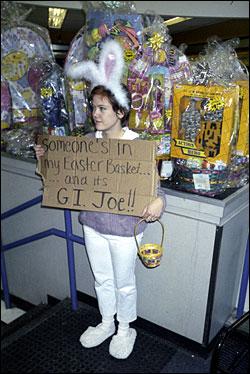 25 Mar 2003 @ 09:46
Amy Hamilton-Thibert, a 28-year-old mother from Astoria, Queens, New York is one of my current S-heros. Erik Baard writing for the The Village Voice tells her story in an this article "BUNNY BUSTERS KMART CALLS COPS WHEN EASTER RABBIT PROTESTS MILITARY-THEMED HOLIDAY BASKETS"

Amy says: "This is the first time I've chosen to actively commit civil disobedience in a very obvious, solitary way. I have no regrets. I'm absolutely pleased with the outcome," she said of her first arrest.

Eric's article
Full Metal Bonnet - Retailers Put All Their Grenades in One Basket opens with:

While Pentagon war planners may be gunning for an attack on Iraq by mid March, heavily armed soldiers have already quietly seized a strategic position: your Easter basket. National retailers like Kmart and Walgreens have stocked their shelves with baskets in which the traditional chocolate rabbit centerpiece has been displaced by plastic military action figures and their make-believe lethal paraphernalia. Tri-state Rite Aid, Genovese, and Wal-Mart stores promise their martial Easter baskets will arrive soon.

I found another article

Walgreens is retreating from plans to sell packaged Easter baskets in which toy soldiers and other war toys are nestled among chocolate bunnies and other traditional candies.

The country's biggest drugstore chain will pull from shelves the cellophane-wrapped, woven baskets that include toys such as troops in battle dress, assault rifles, planes and tanks. Other giant retailers, including Wal-Mart and Kmart, will continue to sell baskets that feature war toys.

OK so now I understand why Easter Bunnies were banned from the White House Annual Easter Egg Hunt. GW might have had to pull out of Iraq!

I call upon the Bunny Power to bring our troops home and end the insanity!




Page: 1 2 Older entries >>