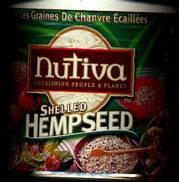 28 Mar 2003 @ 16:39, by Letecia Layson

Industry feels confident and anticipates victory in Ninth Circuit Court of Appeals

Sebastopol, Calif. (March 31, 2003) – With the U.S. military invasion of Iraq underway, the government's Drug Enforcement Administration (DEA) is waging a controversial war on another front and hoping that the public is too distracted to notice. On March 21, 2003, the DEA issued a final rule regarding the legality of hemp foods – whose popularity is growing rapidly – in the United States. The new rule seeks to ban the sale of all hemp food products and to prohibit the importation of hemp oil for cosmetic manufacture. The effective date of the final rule is scheduled for April 21, 2003.

Yet, according to hemp food supporters, the DEA is trying to regulate "a grain of sand in a whole truckload." Says John W. Roulac, hemp author and founder and president of hemp-food manufacturer (http://www.nutiva.com|Nutiva}.

Congress exempted non-viable hemp seed and oil from the Controlled Substances Act (CSA – see 21 U.S.C. 802(16)) because it recognized that trace concentrations of THC, the psychoactive ingredient in marijuana, in hempseed are insignificant (at a few parts per million) and non-psychoactive. The hemp exemption was provided in the same manner that Congress exempted poppy seeds from the CSA, despite the fact that they contain trace opiates otherwise subject to control.

"One would think that the Bush Administration's DEA has more important things to do than attack America's growing hemp-food industry," says Roulac. "Hemp is a health-promoting, non-drug, earth-friendly crop for food and fiber that can help create new jobs and add to farmers' income," he adds. America's leading hemp food brand, Nutiva, offers certified-organic hemp and flax food bars, organic hemp oil and shelled hempseed. In 1999, Nutiva introduced the first hemp food bar in the U.S. and has since sold more than two million bars.

Due to what the hemp industry believes is the weak legal footing of the DEA rules, Roulac and his fellow industry leaders are optimistic that the Court will invalidate those rules. The DEA's new "final rule" is nearly identical to an interpretive rule that the DEA issued in October of 2001. The Ninth Circuit Court of Appeals issued a "Stay" of the DEA's interpretive rule in March of 2002. Now, the Hemp Industries Association is once again rallying its forces for another legal battle to stay, and ultimately overturn, the DEA's unreasonable rule. "The U.S. is a 'Lone Ranger' on the hemp issue," notes Roulac. "Every other major industrialized nation allows hemp agriculture and commerce."


Being under siege by the DEA is nothing new to Nutiva. Back in 1999, Roulac found himself in the trenches of the War on Drugs when U.S. agents impounded a load of hempseed shipped from Kenex, one of Nutiva's Canadian suppliers. "I hope our company won't be held prisoner again like it was in 1999," says Roulac. Before this new DEA attack, Nutiva sales were increasing at a rapid clip. In the first quarter of 2003, sales are up 30% from the fourth quarter of 2002 and the company is on track to achieve close to $1 million in sales in 2003. Hundreds of farmers, business's, and jobs are at risk if the proposed rules go forward. "All of the hard work by people in the hemp industry could go up in flames due to the misconceptions of the DEA," says Roulac.

HEMP IS A NUTRITIOUS & DELICIOUS CROP "Hempseed is the world's most nutritious seed," states Roulac. Shelled hempseed is comprised of 45% "good fats" in an ideal balance of Omega-3 Alpha-Linolenic Acid, Omega-6 Linoleic Acid, "Super" Omega-3 Stearidonic Acid, and "Super" Omega-6 Gamma Linolenic Acid. It is also rich in vitamin E and iron, and contains 33% protein. Unlike other Omega-rich alternatives such as flax, primrose, borage or fish oils that are sold mainly as supplements, hemp oil has a "nutty" flavor that makes it a healthy and tasty addition to recipes.

Although hempseed was unknown to the public as little as 3 years ago, Nutiva's Canadian hempseeds and hemp oil are now added to cereal, yogurt, omelets, pasta, salads, cookies and smoothies by tens of thousands of Americans. Shelled hempseed looks like a sesame seed and has a delicious nutty flavor similar to that of a pine nut. In response to growing consumer interest, many natural food companies add shelled hempseeds to such products as Nutiva's whole food bars, French Meadow Bakery's bread, and Nature's Path's hemp waffles and cereal.

In a January 2003 Time Magazine article, national health expert Dr. Andrew Weil mentioned hemp and flax seeds as rich sources of Omega-3's – a class of essential fatty acids – for improving brain function. Hemp oil contains 80% polyunsaturated fat, the highest ratio of "good fat" of any vegetable seed oil, and it also the closest to healthy fish oil of any vegetable oil.

NUTIVA - NOURISHING PEOPLE AND PLANET Nutiva demonstrates its mission to nourish people and planet by using healthy organic ingredients, enriching the soil and supporting just and sustainable causes. Nutiva donates 1% of sales to groups that promote sustainable agriculture. Founded in 1999, Nutiva offers nutritious organic hemp as well as flax food bars, hemp oil and oil capsules, and shelled hempseed nationwide at more than 1,600 natural food retailers, including Whole Foods Markets and Wild Oats. For more information, visit www.nutiva.com, call (800) 993-4367, or write Nutiva, P. O. Box 1716, Sebastopol, CA 95473.