---
| | |
| --- | --- |
| Thursday, November 20, 2003 | |
---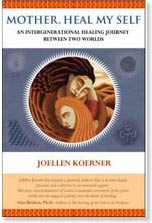 20 Nov 2003 @ 08:59
"When anybody's not feeling well, it's that great invitation to take stock . . . If you have a respect for life, it takes you to interesting places but it also holds a presence. You kind of just know that in all this there'll be something for you, and it's very sustaining. " -- JoEllen Koerner

JoEllen Koerner is a nurse from South Dakota who became President of the American Organization of Nurse Executives. But none of her training or experience was equal to the challenge she faced when her daughter was stricken ill after giving birth to her first child. "I had spent my life in one field and I was happy and proud of the way it saves lives, and when none of it worked, and suddenly a whole new healing paradigm came in, it took us to another place and brought us health and wholeness."

That new paradigm was the healing practice of the Lakota Sioux.

JoEllen had grown up among the Lakota Sioux, who had been helpful to generations of her Mennonite family. Despite their proud tradition, the Lakota have the poorest health statistics of any Indian population. Their average life expectancy is 46.2 years. This poor health is linked to their extreme poverty. Reservation income is around $3,350, according to Koerner.

After earning her PhD at the innovative Fielding Institute in Santa Barbara, she worked at the Sioux Valley Hospital, where she helped to establish a program that brought Lakota healing traditions into a modern hospital setting. That is when she met Wanigi Waci, a traditional healer. Although the program was eventually dissolved with the arrival of a new director, the friendship between Wanigi and JoEllen did not end there.

Some time later, JoEllen's daughter Kristi became pregnant. After a difficult pregnancy, her labor turned into a life-threatening ordeal culminating in a Caesarian. The baby, after a prolonged period in the birth canal, was in critical condition. It was the beginning of a time of terrible difficulty for Kristi and her family, one in which modern medicine failed. She suffered from terrible pain and discomfort that no medical doctor appeared able to diagnose or correct. When Wanigi Waci offered his assistance, JoEllen was ready to receive it. The Lakota community helped Kristi choose life, healing not only her own body but addressing the four-generation lineage of maternal ancestors who had struggled in childbirth.

JoEllen has written a book about this experience with the arresting title, Mother, Heal My Self: An Intergenerational Healing Journey Between Two Worlds, published by Crestport Press here in Northern California. It's a powerful story that effectively conveys the intensity of the healing process that mother and daughter went through together. Reading it, I was struck by JoEllen's open-ness to the suggestions given her by tribal healers and her willingness to act on them.

Note: for full article and interview take a look here. Stephanie Hiller does an amazing job of sending out timely news and articles for women who want to stay with the pulse beat of change - And be a part of it. You can sign up for her free newsletter here

I don't have a copy of the book yet, but I know it will be added to my Solstice Wish List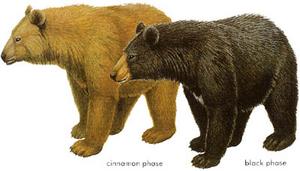 20 Nov 2003 @ 23:59
"Before enlightenment chop wood and carry water.
After enlightenment, chop wood and carry water."
--Wu Li

Since coming back from Glastonbury this Lammas season, I returned with an awareness that 'I can't do it alone". There are many things better and easier done with two people rather than just one person. Chopping wood is easier for me when two of us are working together.

It seems these days when I am outside doing garden work or work on the land, words are few. I appreciate nature's chorus, the creek, the wind through the trees, the insects buzzing around me and the feel of my body in motion.

Today Raymond came to help chop wood. Thanks so much R! I know you love this land too.

I drove into Los Angeles to do some COA work, meeting with my good friend, Dena. Then headed over to my sister's house for a cup of coffee (or two) to hold me over for the drive back into the canyon. Heartfelt connections are very important to me these days.

I was delighted with a bear sighting. Ted Andrews in his book Animal Speak says bear's keynote energy is . Awakening the Power of the Unconsious. In a previous article Candice Pert says that our body is our unconscious mind. Hmm, so I guess the power of my body is really waking! Yum!


20 Nov 2003 @ 23:59
Space Weather News for Nov. 20, 2003

A coronal mass ejection swept past Earth during the early hours of Nov. 20th and sparked bright auroras over northern parts of the United States. At the time of this writing (1600 UT or 11:00 a.m. EST) a strong geomagnetic storm is in progress. The interplanetary magnetic field near Earth has tilted sharply south--a condition which promotes geomagnetic activity. If this condition persists, auroras are possible at low latitudes tonight.

The source of this space weather is sunspot 484--one of the trio of big sunspots that caused intense solar storms last month. Indeed all three of those active regions are back on the Earth-facing side of the sun, so more solar activity is possible in the days ahead.

Visit Spaceweather.com for more information and pictures of today's auroras.

Note: Do you feel affects of the solar activity?

20 Nov 2003 @ 12:27
Topic: FAWN 2004 Conference and "Babaylan Spirit and Tradition Series"

when: Thursday, November 20th, 2003, 6:30 to 8:30P

who: Perla Daly, NewFilipina, Inc. and NY/NJ/CT Fil-Am community advocates

where: Elke Aspillera's SOHO Flat, 50 Grand Street-2F, New York City. Corner of West Broadway and Grand Street. From Canal Street, walk to corner of West Broadway and take W.B'way one block north to corner of North-East Corner of Grand Street.

You are welcome to bring associates who are interested in this endeavor.

Agenda:
Part 1. Brief Introduction to emerging concepts of "Babaylan Leadership, Wisdom and Power"
Date and Location of FAWN 2004(which November 2004 weekend and where?)
Discussion of the Conference Title and Speaker Panel Schedule
volunteer co-chairs and committees
Brief Description of Babaylan Spirit and Tradition Series and initial gatherings-
- January 10th, 2004 (small intimate charter meeting)

- Feb 7 and 8th, 2004 2-day symposium

- need place for 2-day symposium

- need volunteers to manage symposium ticketing, Promo and refreshments

Discussion of enlarging participating network

--------------------------------------------
Next Babaylan Network Innovation Meetin:

December 13th, Saturday. 12:30 to 4:30PM
Agenda:
Part 2. In-Depth Introduction to emerging concepts of "Babaylan Leadership, Wisdom and Power"
FAWN 2004
- Committee Co-Chair present findings and proposals

- logistics

- speaker panel and schedule

Babaylan Network Series presentation of Symposium and workshop proposals.
Concept of FAB network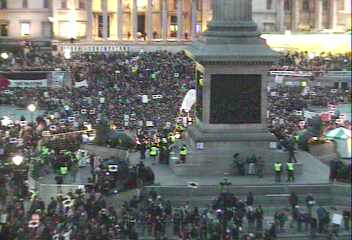 20 Nov 2003 @ 10:07
It's pretty strange to have so little buzzing around the net in America about Bush's visit in London. Take a look at this:

BBC News November 18, 2003

Protesters angry about the "security bubble" around President George Bush on his UK visit are being asked to use gadgets to be heard and seen.

The Chasing Bush campaign is asking people to "disrupt the PR" of the visit by spoiling stage-managed photos.

They are being encouraged to send location reports and images by mobile to be posted on the Chasing Bush site.

"We want to give people a chance to be a visible voice of dissatisfaction," said campaign organiser Tim Ireland.

Not smiling

Technologies like text messaging and weblogs have been successfully used in the past to co-ordinate routes and meet-up points for mass protests.

But the gadgets are now being used more proactively to make protests more visible and disrupt any potential stage-managing of the President's visit.

"We have been described as a second generation smart mob. We are encouraging people to use camera phones and send us e-mails with photos," campaign co-organiser Richard Wild explained to BBC News Online.

"We are trying to spoil the PR, so we are not doing anything directly, but encouraging people to protest by turning their backs in press photos so they can't be used."

The campaign organisers have also asked people to go into protest "exclusion zones" to send SMS updates and on-location reports about his appearances, and events at protests.

"We want to show everyone in the world we are doing this and we using the web channels to influence mainstream channels as much as possible," said Mr Ireland.

All the messages and pictures will be posted on the website as soon as they are received.

The site has been designed to be low bandwidth so it can be updated in real time via appropriate mobile phones using GRPS or laptops from anywhere, said Mr Wild.

Bush's 'bubble'

The massive security measures for the President's visit are unprecedented. A huge £5m police operation has been mounted with 14,000 officers covering the visit.

Tens of thousands of demonstrators are expected at an anti-war march on Thursday.

The security measures have been put in place in response to fears about public disorder, but also a heightened terrorist threat from al-Qaeda.

A ring of 700 of the President's own secret service agents and security advisers will surround him in a mobile "bubble" amid fears of terror attacks.

Some newspapers and websites were reporting mobile phone signals could be blocked for fear they could remote-control a bomb.

But Scotland Yard has denied reports that police were considering shutting mobile phone masts during protests.

A spokesperson told BBC News Online they were "not prepared to discuss matters of security".

Although it "would be extremely unusual to do that, and authority would have to be cleared with all the appropriate regulators."