---
| | |
| --- | --- |
| Thursday, July 10, 2003 | |
---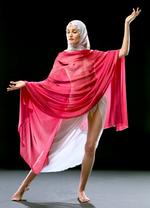 10 Jul 2003 @ 03:34
Special Guest Letecia Layson

Laurel and Letecia,who collaborate on "Women with Wings", are together again for one special evening of sacred dance with women only. Come and join us as we use the energies of summer to inspire our work! Feel free to forward this to women who might be interested.

Date: Tuesday July 15th
Time: 7-10PM Location: 1026 S Robertson Blvd Suite 300 (Just south of Olympic on the east side of the street. Park on the street)
Cost: $15/single class or a class series $48/4 classes **No one is turned away for lack of funds

For more information contact Laurel Kitten 323-876-1918

Laurel Kitten specializes in Sacred Dance and the Empowerment of Women. She is a Ceremonialist, Doula (labor & birth support), Birth Educator, Massage Therapist, Counselor and Minister. Her dance life has spanned over 29 years from the commercial world to the sacred. Her vision is to support a cultural shift in the conversation around women's issues, conscious conception, support during pregnancy, birth's that honor mother and baby first, community support around post partum, attachment parenting, honoring the cycles of eldering and reconnecting the memories of mother, child, family & community back into the tapestry of the natural order.

It has been said that a healthy woman wants what Great spirit wants and thus creates a healthy society. It is important to have sacred space for the women to gather to rekindle the knowing, power and grace that flows through them. This is the time for truth to be remembered. AHO!

Letecia Layson is a Filipina, Feminist, Futurist, Priestess of Morphogenesis (Form Coming Into Being), Priestess of Isis and High Priestess of Diana, ordained in the Dianic Tradition, The Fellowship of Isis (FOI) and The Temple of Isis. Dedicated to a path of service to She of Ten Thousand Names, Letecia is committed to embodying the principle, 'personal is political' by healing and transforming civilization through her words, voice, dance, art and rituals. Letecia has performed with Los Angeles, CA Greek, Arabic and International Folk Dance Troops. She works with her communities, Circle of Aradia and The Temple of Isis in Los Angeles, CA. She cultivates Life and land through permaculture in Ojai, CA with her partner, housemates and cat, Leto. More >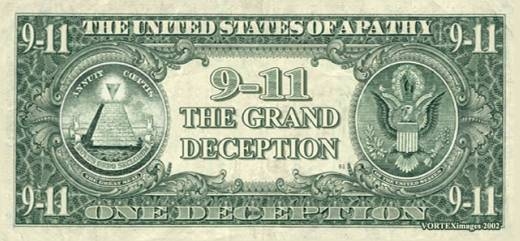 10 Jul 2003 @ 07:09
This link, Cost of War was brought to you by the intergenerational cooperation of Niko Matsakis, in Boston, and Elias Vlanton, in Takoma Park, MD.

It is amazing to me to watch the numbers ticking by and what is really happening with out tax dollars.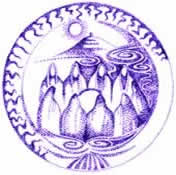 10 Jul 2003 @ 06:37
I posted an article on July 4th about the Goddess Conference in Glastonbury. I will be presenting a women's only all day dance workshop on the fringe Julie Solheim will be with me for the second year!

Come join us:

In ancient times, women prepared for sacred work and community gathering with rites of purification and deepening. Join with other women in an all day journey to prepare to meet the Morgens. Our circle will include information sharing, guided meditation, purification and witness dance. Together we will gently move through the veils of reality allowing the Dance to activate the body's intelligence at a cellular level. From this deep place of bodyknowing we will drop in questions, seeking wisdom that lives in us. Let your body be your guide. Our collective work for the day will culminate in a danced invocation inviting the Morgens to work with us throughout the Goddess Conference. Dress comfortably. Bring percussion, drums, rattles, veils and scarves to dance with or adorn yourself or others.

Check here for Fees and Booking Information.



10 Jul 2003 @ 04:11
Jo Tuckman in Mexico City
The Guardian
Friday, July 4, 2003

Forget the burning barricades and Molotov cocktails. Increasing numbers of Mexico's dispossessed and downtrodden believe stripping off is a far more effective way of grabbing attention for grievances.

The vanguard of the birthday suit brigade is a peasant group from the state of Veracruz called the Movement of the 400 Villages. Pot bellies thrust forward on some, loose skin sagging over the ribs of others, youthful athleticism shining out from just a few, they invaded the capital for three weeks this summer.

Their land claims and allegations of repression are being made in this country of 100 million against a background of simmering affliction: more than half the population lives in poverty, and a cinema ticket costs more than the daily minimum wage.

But their demonstrations in various states of undress distinguish them from the many other marchers who regularly bring the metropolis to a standstill.

Naked protests first caused a stir in Mexico in 1985, when sacked miners took to the streets wearing only their hard hats, boots and tool belts.

The strategy lay dormant until the Veracruz peasants picked up the baton three years ago. They were joined by a small but growing, assortment of protesters ranging from oil workers to street vendors.

Stripping, they say, reveals their desperation, underlines their determination, and shows the world they have nothing to lose and nothing to hide.

It is hardly the language of revolution but a strategy, the Veracruz peasants believe, which works remarkably well. The protesters say their tactics last year embarrassed the federal government into negotiating land claims and will, they hope, help secure the prosecution of allegedly abusive officials.

At the end of a recent march, a mass of flesh spread out around a central Mexico City roundabout. Cars honked, children smirked, some adults were shocked and others smiled, until a disembodied voice shouted out: "OK, comrades, clothes on."

Dressed again, the Veracruz peasants melted into the general chaos of the Mexican capital.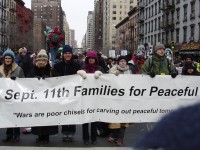 10 Jul 2003 @ 03:09
This post came in my box today. Seems like a wonderful way to gether with friends and family in support of Peace.

September 11th Families for Peaceful Tomorrows invites you to:

Please join us in creating Circles of Hope to commemorate the two-year anniversary of our loved ones deaths on September 11. We plan to encircle the World Trade Center site with a candlelight vigil on the night of September 10, 2003. Gather with us in New York City or create a Circle of Hope candlelight vigil in your own community and register it on our website.
We will also be providing materials on our website for discussion circles to explore the psychological and political impact of 9/11 on ourselves, our communities and our world.

Why Circles of Hope?

In the immediate aftermath of the tragedy of September 11th, 2001, expressions of sympathy and solidarity with the victims poured in from people all over the world. As the victims' family members, we witnessed and received extraordinary acts of compassion. Many visualized a phoenix of peace arising from the ashes of the crash sites.

But at the same time, a climate of fear emerged, preventing deep discussion of issues surrounding the tragedy, and driving apart people with diverging visions of how to respond to 9/11. We can overcome this fear and rekindle the hope by recognizing that real security comes through our common desire for healing in our fragmented world.

Components of the Circles of Hope:

€ Join us in New York, or create a Circle of Hope candlelight vigil in your community on the night of September 10, 2003.

€ Create a discussion circle in your community to explore issues surrounding September 11. A discussion circle guide and materials will be available on our website by August 1, 2003.

Join Us in Creating Circles of Hope

1. Register your circle

2. Spread the word! Please forward this email to your lists.

3. Donate to Peaceful Tomorrows. Your financial contributions will allow us to realize this vision. Please contribute online

Thank you for creating circles of hope,

The families of Peaceful Tomorrows

circles@peacefultomorrows.org