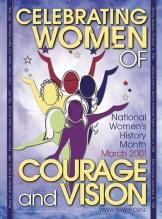 16 Mar 2003 @ 06:49
I recently discovered this website. Physically located in Seneca Falls, New York, it is regarded as the birthplace of women's rights in America. The first women's rights convention was held here in 1848.

So far to date there are 195 women, both living and dead, who have been inducted. Check here here for a detailed list.

""We hold these truths to be self-evident that all men and women are created equal........." With these words a dream was given life in historic Seneca Falls, New York, the Birthplace of Women's Rights. Here, in 1848, Elizabeth Cady Stanton (a Seneca Falls resident), Lucretia Mott and 300 other women and men held the first Women's Rights Convention. The Declaration of Sentiments, modeled after the Declaration of Independence, was presented and passed by the convention. These resolutions included among other demands, that women have the right to vote. The struggle for women's rights had begun.

Seventy-two years later in 1920, the 19th amendment to the Constitution of the United States was ratified, which gave women many rights, including the right to vote. It had been a long, hard fight by women and men who believed in the equality and rights of women.

The women and men of Seneca Falls created the National Women's Hall of Fame in 1969, believing that the contributions of American women deserved a permanent home. In 1979, after a major fundraising drive, the Hall purchased an historic bank building in the heart of the Seneca Falls Historic District, renovating it to house the Hall's permanent exhibit, artifacts of historical interest, and offices."

I have many wonderful women in my life. If you do and would like to nominate them for the Hall of Fame, here is the criteria.

Don't forget to honor the great women in your lives this month!