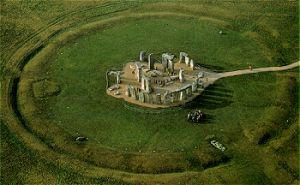 7 Mar 2003 @ 14:32
I am a huge stone circle fan. When this story appeared from the Discovery Channel. I had generally heard that Stonehenge was more associated with men more than women. According to Jennifer Viegas, Discovery News:

Feb. 28, 2003 —The design of Stonehenge, the 4,800-year-old monument in southwestern England, was based on female sexual anatomy, according to a paper in the current Journal of the Royal Society of Medicine.

The theory could explain why the ancients constructed Stonehenge and similar monuments throughout the United Kingdom.

Anthony Perks, a professor emeritus of obstetrics and gynecology at the University of British Colombia in Vancouver, and a doctor at the university's Women's Hospital, first thought of Stonehenge's connection to women after noticing how some of the stones were smooth, while others were left rough.

OK, so then Anthony goes on to say:

Thinking how estrogen causes a woman's skin to be smoother than a man's, the observation led Perks to further analyze the monument in anatomical terms.

He noticed how the inner stone trilithons were arranged in a more elliptical, or egg-shaped, pattern than a true circle. Comparing the layout with the shape of female sexual organs showed surprising parallels.

Perks believes the labia majora could be represented by the outer stone circle and possibly the outer mound, with the inner circle serving as the labia minora, the altar stone as the clitoris and the empty geometric center outlined by bluestones representing the birth canal.

I honestly had not considered these details about stonhenge before. Next time I am across the pond, I will be more inclined to check it out for myself.

I understand there is some concern about a roadway that is being built near the site that might cause damage to this ancient site. Check here for more details and how you might help to preserve this ancient sacred site.

If you are not inclined to travel, perhaps you might like to visit America's Stonehenge:

Built by a native American culture or a migrant European population? No one knows for sure. A maze of man-made chambers, walls and ceremonial meeting places, America's Stonehenge is one of the oldest man-made construction in the United States. (over 4000 years old). Archaeological Excavation at the site has uncovered an amazing range of historic and pre-historic artifacts-from stone tools, pottery and ancient old world scripts to 18th and 19th century house wares, and manacles (possibly removed from slaves who used the site as a stop on the underground railroad in the 1830's and 1840's.

Along with it's astronomical alignments, America's Stonehenge continues to be one of the most fascinating archaeological discoveries of the century

You can actually rent out the henge for your next event.

Take a look at this link to learn more about Archeoastronomy.