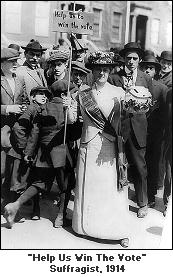 4 Mar 2003 @ 11:22
March is National Women's History Month,
The National Women's History Project In 1980, the National Women's History Project (NWHP) was founded in Santa Rosa, California, as a nonprofit corporation by Maria Cuevas, Paula Hammett, Molly Murphy MacGregor, Bette Morgan, and Mary Ruthsdotter.

More from the site:

90 years ago a small group of women organized a parade that would help change the U.S. Constitution and win political power for half of the American population. On March 3, 1913, a band of suffragists in Washington D.C. staged such a remarkable demonstration for women's rights that it has long been acknowledged as one of the high points in the 72-year drive for Votes for Women in the U.S.

Another place to visit with great info and links, is the Feminist Majority website

By changing the focus of the larger suffrage movement from campaigns in the states to federal action on a Constitutional amendment, Alice Paul, Lucy Burns, and their Congressional Committee of the National American Woman Suffrage Association led the way towards the final national enfranchisement of women. The charismatic Alice Paul was 28 years old and her colleague, the brilliant and courageous Lucy Burns, was 33.

If you are interested in keeping up in the academic world on Women's Studies check here.