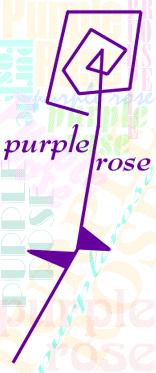 7 Nov 2005 @ 22:39, by Letecia Layson

The PURPLE ROSE CAMPAIGN is an international campaign initiated by GABRIELA to raise awareness on the issue of sex trafficking of Filipino women and children: the brutal control exercised over women and children victims; the high incidence of violence and the tremendous self-sacrifice the women undergo to ensure the economic survival of their families in the Philippines. It shall provide a means by which everyone and anyone can express disapproval and opposition against the use of the sex trade and forced labor as a means of propping up the collapsing economy.

The campaign is also a way to express support for the women and people of the Philippines who seek to change the current situation.

WHY A PURPLE ROSE ICON?

For over 30 years, horticulturists the world over, largely in the West, cross-bred and hybridized roses to create the perfect purple rose. It does not occur in nature and is a created thing. It is no different from any other rose, except it has been exoticized and set apart by human will. It is artificial and yet no different from any other rose: looks the same, smells the same, has thorns, leaves, stems, roots. But it was forced to be different. The purple rose exists not for its own evolutionary purposes but for the pleasure of others.

The same with our women who are forced into becoming a created stereotype (not even a historical stereotype but a deliberately concocted one, to serve the needs of globalization) a thing for other's use. In adapting to that persona, our women suffer immeasurable self denial, as wives, mothers, sisters, daughters, as Filipina women.

Just as the Purple Rose is set apart, isolated and denies, to a certain extent, its self as a rose and its affinity with other roses.
GABRIELA is an acronym standing for General Assembly Binding women for Reform, Integrity, Equality, Leadership, and Action. It also commemorates Gabriela Silang, known as one of the first and fiercest women generals in the Philippines who led the longest series of successful revolts against 18th Century Spanish colonizers.

GABRIELA Network (GABNet) is a US-based multi-racial women's solidarity mass organization. We work with GABRIELA Philippines, a national alliance of more than 200 women's organizations. We work on issues that impact women of Philippines ancestry, but which have their roots in the decisions made in the United States. GABNet is an all-volunteer organization of women with chapters in Chicago, Irvine, Los Angeles, New York/New Jersey, Portland, Seattle, San Francisco/Bay Area, and Washington, DC.