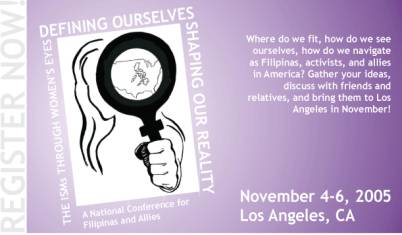 7 Nov 2005 @ 21:03, by Letecia Layson

I just returned from GABNET's National Confrence co-hosted by UCLA SAMAHANG PILIPINO:

DEFINING OURSELVES, SHAPING OUR REALITY:

THE ISMs THROUGH WOMEN'S EYES

A National Conference for Filipinas and Allies
November 4-6, 2005
UCLA Los Angeles, CA

Where do we fit, how do we see ourselves, how do we navigate as Filipinas, activists and/or allies in America? Gather your ideas, discuss with friends and relatives, and bring them to Los Angeles in November!

From November 4 to 6, 2005, GABRIELA Network and UCLA Samahang Pilipino will host a historic conference that will gather together over 500 women of Philippine ancestry and their allies. The national conference will be at the University of California, Los Angeles. There will be workshops, plenaries and opportunities for networking. At the end of the conference, participants will have the opportunity to take part in forming a plan of action to address specific issues that have been identified.

RELEVANCE OF SUCH A CONFERENCE. Women of Philippine ancestry comprise over 55% of the overall 2.36 million Filipinos in the United States. They tend to fill the ranks of the service industry mainly as nurses, domestic workers, and clerks. With more than half of women being first generation immigrants, there must be a comprehensive understanding of policies that govern migration from the Philippines. An analysis of push-pull forces, particularly root causes of migration, economic development plans, and the concrete situation in host countries like the United States.

Women of Philippine ancestry contribute to American society on a number of levels--political, economic, cultural, and social. Despite these successes, Filipinas have not been without struggle in the United States. Filipinas are still the target of racism, discrimination, sexism, exploitation, and violence. Many women face harsh or unjust working conditions, often being overworked and underpaid, especially for the levels of education they have. For example, although roughly 40% of Filipinas have a college degree, many are unable to find work in their areas of study. Filipinas have some of the highest domestic violence rates in the United States and the highest suicide rate among youth ages 14 to 25. Furthermore, although there is large participation of women of Philippine ancestry in mainstream America, there remains invisibility in terms of representation in media, culture, and education. Thus, given the lack of information on the experience of women of Philippine ancestry in the United States, it is necessary to come together for the purpose of learning and exchanging ideas and histories as well as taking action.

It was great to experience this event with my eldest sister, Carolina. It was our first time with radically political Filipinas.

I hope the keynote speakers:

Ninotchka Rosca
Congresswoman, Liza Lagoza Maza (GABRIELA Woman's Party)
Emmi de Jesus, Secretary General, GABRIELA Philippines
Judith Mirkinson, WAIL
Amirah Lidasan
Dorotea Mendoza, Secertary General, Gabriela Network, USA
Etc.....

Have their presentations up on the net so you can experience them yourselves.

I am still processing all the data shared!