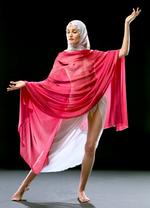 10 Jul 2003 @ 03:34, by Letecia Layson

Special Guest Letecia Layson

Laurel and Letecia,who collaborate on "Women with Wings", are together again for one special evening of sacred dance with women only. Come and join us as we use the energies of summer to inspire our work! Feel free to forward this to women who might be interested.

Date: Tuesday July 15th
Time: 7-10PM Location: 1026 S Robertson Blvd Suite 300 (Just south of Olympic on the east side of the street. Park on the street)
Cost: $15/single class or a class series $48/4 classes **No one is turned away for lack of funds

For more information contact Laurel Kitten 323-876-1918

Laurel Kitten specializes in Sacred Dance and the Empowerment of Women. She is a Ceremonialist, Doula (labor & birth support), Birth Educator, Massage Therapist, Counselor and Minister. Her dance life has spanned over 29 years from the commercial world to the sacred. Her vision is to support a cultural shift in the conversation around women's issues, conscious conception, support during pregnancy, birth's that honor mother and baby first, community support around post partum, attachment parenting, honoring the cycles of eldering and reconnecting the memories of mother, child, family & community back into the tapestry of the natural order.

It has been said that a healthy woman wants what Great spirit wants and thus creates a healthy society. It is important to have sacred space for the women to gather to rekindle the knowing, power and grace that flows through them. This is the time for truth to be remembered. AHO!

Letecia Layson is a Filipina, Feminist, Futurist, Priestess of Morphogenesis (Form Coming Into Being), Priestess of Isis and High Priestess of Diana, ordained in the Dianic Tradition, The Fellowship of Isis (FOI) and The Temple of Isis. Dedicated to a path of service to She of Ten Thousand Names, Letecia is committed to embodying the principle, 'personal is political' by healing and transforming civilization through her words, voice, dance, art and rituals. Letecia has performed with Los Angeles, CA Greek, Arabic and International Folk Dance Troops. She works with her communities, Circle of Aradia and The Temple of Isis in Los Angeles, CA. She cultivates Life and land through permaculture in Ojai, CA with her partner, housemates and cat, Leto.


Spirit Dance
January 30, 1999
By: Laurel Kitten

As a little girl, when people would ask me, "What do you want to be when you grow up Laurie?" I would say, "I want to be a fire woman or a dancer, an animal doctor or a dancer, a police woman or a dancer." The interesting thing was at that early age I had not been exposed to dance. At about the age of three, before I knew how to read, I drew a picture of a dancer and copied some random letters out of a magazine and gave it to my mother. When she read it her jaw about hit the floor. It said, New Hope a Tiny Artist. At the age of six I was put into my first dance class. This was my parent's hope to save me from a life of embarrassing clumsiness.

My world became dance; nothing else seemed to matter quite as much, well with the exception of horses. The truth was dance was the saving grace that pointed me toward my freedom. This was where I felt most alive and appreciated.

Twenty-three years later I found myself with a dance career that had taken me around the world and left me saying now what? I had no desire to spend the rest of my life as a choreographer or spend my days in ballet class to keep myself in shape for those commercialized gigs that seemed to be lacking in creative vision. I had identified myself as a dancer for most of my life and now I was facing confusion and what was looking like, IDENTITY CRISES.

This went on for about three years, until one unexpected day. I was walking in the canyon, admiring the beauty of the trees, when this very clear voice said, " You are to teach Spirit Dance." My first thought was, what is that?! Then I heard, "Put together what you think it is, and it will birth itself into many different forms." Then in the blink of an eye, as if the universe opened, I saw. Everything I had treasured most in this world, seen and unseen were to be the ingredients that made up this dance that I was
being asked to create.

My life as a dancer began to take on a whole new meaning. As I faced my fears of surrendering into a larger expression of God/Goddess/All That Is, I allowed the release of the structure that had brought me to this point. Great things began to happen. Remembrances of the Ancient past and Sacred dance began to flood my memory banks. I started to see, Source had a greater agenda for this little dancer.

I would still myself and with faith, surrender into the unknown. Energies that were more powerful than anything I had ever experienced, in the hundreds of ceremonies from around the world that I had participated in, began to enter my body temple. This energy danced me like I had never been danced before. It called forth from my cells the ancient/future encodements of this time. This gift was not only for myself but also for those who gazed upon the dance. I saw my only job was to stay out of the way and
breathe.

As these expressions of the mystery continued to create through me, I found myself continually inspired by those who witnessed. Over and over again, tear filled eyes would approach me, speaking melodies of gratitude of their deep soul hunger for what had just happened.

As I reflect, there are many gifts that have been revealed to me. A few of these gems are; it is time to bring the ancient-future mystery of the invisible world into the visible through the dance. Humanity as a whole seems to be more receptive than ever before to its own awakening. The universal language that is expressed through geometries and vibrations of light are asking to be brought through in the form of interpretive movement. A Self-realized being is one who has balanced and activated all of the energy centers within the body. Dance is a perfect way of weaving the heavenly and earthly aspects of self into a unified field of One.

I find it takes a lot of courage and surrender, to step into the mystery. To allow it to mold and enliven the dance to the point that one is transformed forever. I will say though, it is worth it. I will also say, there have been some changes in the protocol, on our journey of remembrance. It is now, to include fun. Sooooo Let's Dance!