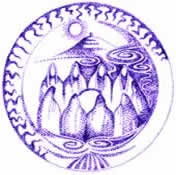 4 Jul 2003 @ 13:09, by Letecia Layson

The Nine Morgens of Avalon
Wednesday 30th July - Sunday 3rd August
Glastonbury, England

Following the success of last year's rewoven Goddess Conference, in 2003 we will once again be making collective and individual pilgrimages to the Goddess throughout the course of the Conference. We will be journeying physically, emotionally, psychically and spiritually into the Heart of Her Mysteries as they present themselves here in Avalon in the sacred landscape and within the forms of the Nine Morgens, who are the Nine Ladies of Avalon.

In legend the Nine Morgens are Nine Sisters, Faeries, Fates, Goddesses, Ladies, Crones or Crows, who rule the Isle of Avalon. The most famous is Morgen La Fey - Morgen the Faery or Morgen the Fate, who in Arthurian legend was Morgana, the maligned half-sister to King Arthur. However She is so much more than this, and She has eight Sisters of whom little is known. During the Conference we will be exploring the true nature of the Nine Morgens as Goddesses of transformation, as Sisters working in circle, as Healers, Muses and Guardians of Avalon. Our purpose is to bring them forth from the mists of our forgetting, so that we can recognise and honour these ancient Goddesses of Avalon once again. We will also be exploring the themes of Sisterhood and Cooperation between women, and between women and men.

Our Pilgrimage journey includes Conference favourites - baking Lammas bread, singing, dancing, the Goddess in the Cart procession and all the fun we usually have, and there are new experiences of Her Mysteries which we hope you will enjoy. As usual participants will be supported in Pilgrimage Circles of 13 and we ask for your cooperation in welcoming Conference newcomers as well as old friends, so that everyone has companions on this journey of exploration into the Mysteries of Avalon. We ask for the blessings of the Nine Morgens on our Conference.

Kathy Jones is the cofounder and coorganiser of the Glastonbury Goddess Conference. She is a writer, healer, initiator, sacred dramatist and Priestess of Avalon. She teaches a three year training for people to become Priest/esses of Avalon and trainings in Esoteric Soul Healing. She loves witnessing people unfolding and flowering, and adores the Goddess in Her many forms. She is a founder of the Glastonbury Goddess Temple, the first public Goddess Temple in Europe for perhaps a thousand years.

Tyna Redpath is the cofounder and coorganiser of the Glastonbury Goddess Conference. She is a Wonderwoman who brings her many creative gifts to the Goddess and the Conference. She is the owner of the pioneering Goddess and Green Man shop, which can be found in Glastonbury's High street. One of the first Goddess shops in the UK it offers Goddess books and items for altars, practice and decoration. Tyna is also an excellent craftswoman in her own right.