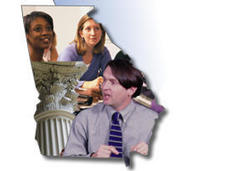 21 Feb 2003 @ 13:41, by Letecia Layson

I subscribe to a really interesting non-profit enewsletter, PNNOnline which "delivers news, information, and resources to all segments of the nonprofit world in order to help them better achieve their goals. I always find the information interesting and useful. Here is a recent article:

Appeal Goes to Georgians to Fight Cancer in Their State
"An alarming statistic is that one in every two men and one in every three women in Georgia will be diagnosed with cancer sometime during their lifetime," said Russ Toal, president of the Georgia Cancer Coalition. Georgia citizens can help fight this disease by supporting the Breast Cancer, Prostate Cancer, and Ovarian Cancer Research Program Fund when filing their Georgia Income Tax return.

Has me wondering what is happening in the good ol' state of Georgia. For all you Georgians, here is a resource:

The Georgia Cancer Coalition (GCC) is a statewide network of people and organizations - doctors, hospitals, government agencies, public health services, survivor and community health groups, universities, industries, non-profits and interested individuals – all working together to save lives and reduce human suffering from cancer. As a public—private partnership, we work to strengthen the collective impact of existing cancer- related programs and create new initiatives that bring early detection, leading-edge treatment, research, prevention, and education to all Georgians.

Cancer is the second leading cause of death in Georgia, one of the highest cancer rates in the country. Through leadership and funding, the GCC provides guidance and assistance for using Georgia's resources in the fight to reverse the cancer mortality and occurrence rates.