---
| | |
| --- | --- |
| Wednesday, January 4, 2006 | |
---


4 Jan 2006 @ 04:39
I am a bookaholic. I love books!!! I have wanted to find a way to organize and track my personal library. I decided to try out BookDB:

"With BookDB you can enter all your books with author, category, publisher etc and print them out in a variety of formats. Why would you need such a thing? Well, if you're always going to book sales and buying bargains only to get home and find you've doubled up, take a printout with you! BookDB has a super-condensed print mode so you'll need a magnifying glass, but at least it'll save a tree or two.

BookDB also has lending library features. With them, you can add borrowers, loan out books, add multiple copies and so on."

from [link]

I have entered about 10 books so far and like what I see. If anyone else out there has a favorite software the use to track their books, I loved to hear about it.

Oh the best part about this is it is Freeware!


---
| | |
| --- | --- |
| Thursday, December 8, 2005 | |
---
8 Dec 2005 @ 16:36
"The Top-20 2005 is a consensus list of vulnerabilities that require immediate remediation." "We have only listed critical vulnerabilities from the past year and a half or so. If you have not patched your systems for a length of time, it is highly recommended that you first patch the vulnerabilities listed in the Top-20 2004 list"


---
| | |
| --- | --- |
| Sunday, November 23, 2003 | |
---

23 Nov 2003 @ 23:59
In March, I posted a piece on Spam. It really annoys me. I found a website that stays current on spam laws internationally.

UK Anti-Spam Laws Launched
Silicon.com September 18, 2003

The UK government has introduced legislation that aims to protect internet and mobile phones users from unsolicited commercial emails. The new law will make it illegal to send junk mail unless the user is a customer or has given permission to receive such material. This news may be good for users, but many businesses recognize the immense marketing capability offered via email and the internet.


---
| | |
| --- | --- |
| Sunday, March 30, 2003 | |
---

30 Mar 2003 @ 07:43
Ming posted an article "Weblogs on the move" where he says:

When I'm on the move, what I could use would probably be a simple mob-log technology, where I could post photos and short notes from a cell phone or something. And probably I'd prefer for that to go in a sidebar to my normal weblog.

I am looking forward to this future feature!

For now take a look at this Fotolog " a website that lets you easily put your digital photos on the web in a daily log format. If friends/family have their own Fotologs, you can see everyone's latest photos on one page and link back and forth to each other. And, you can comment in each other's guest books.

From their FAQ:

Why use Fotolog if I can just email photos to my friends and family?

Your friends/family will see your network of friends/family photos on your page

Your friends/family can check out your Fotolog when they want to, not when you bug them to

Fotolog automatically creates an archive of your past photos - so, for example, people can see '"how the baby's grown" whenever they want

You'll have your own continually updated website without doing very much

Fame and fortune will result from being featured on the Fotolog homepage

Ming, maybe you can create a link or feed into your sidebar rather than write more code on your own. I would like to see more of your pictures as your travel. Safe Journey!



---
| | |
| --- | --- |
| Friday, March 14, 2003 | |
---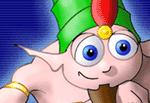 14 Mar 2003 @ 06:04
Dr Elwyn Jenkins has developed Smoogle - The Smart Googler's News, Views and Tools about online search Google™ is a trademark of Google Inc. This website is not affiliated with Google Inc.

He has a great Guide to Meta Search Engines listing several and reviewing each of them.

"Many people use one search engine, Google, and do not wander to any other. I know what you are thinking. Google gives such good results, why would I bother using any other tool? The web is a big place -- much larger than the 3 billion or so pages that Google Indexes. No one really knows how large it might even be 8 billion pages. Each search engine has its own strengths and weaknesses."

I played around with these:

dugdugi, kartoo (my personal favorite), ez2find

Not being much of a techie myself, kartoo appeals to me with it's playful Genie who floats around while the search is going on. I love the roll over buttons and text pop ups.

For now Google is the easiest search engines for me to use, probably just because I am use to it. I have to say that Genie is pretty cute and as I said before, I like the roll over action on the buttons.


---
| | |
| --- | --- |
| Saturday, March 1, 2003 | |
---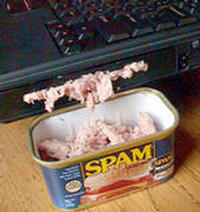 1 Mar 2003 @ 19:11
I get tired of spam in my ebox. I am glad to see that there is a movement afoot to isolate spammers. Here is an article from ZDNet David Berlind decided to do something about it. You can read about his reason's why here.

David did some research and organized a meeting to rally support for an anti-spam coalition. SpamJam was born on Feburary 15th when industry praticipantsgathered for the first time.

If you ask the average Internet user, or even the above average Internet user, what the negative effects of spam are, more often than not they will tell you about the first edge of the double-edged sword that is spam. It's the one we all know about. The one where our inboxes get clogged, our productivity is drained, and valuable resources such as storage space and network bandwidth are unnecessarily consumed. For businesses, this often translates into a quantifiable loss.

But there is a second, more insidious edge to spam and the stakes associated with that edge are actually higher than those associated with the first edge. This second edge has to do with (1) the blacklists that ISPs have been forced to build or subscribe to in an effort to keep spam from passing through their systems and (2) the amount of legitimate email that is denied safe passage through the Internet as a result of those blacklists. Why would ISPs attempt to block spam if their spam countermeasures end up blocking legitimate mail too? There are several reasons. But two of the most common ones have to do with the threat that spam poses to the reliability of their services and the desire to keep themselves from becoming an entry on the blacklists that other ISPs subscribe to. gathered for the first time to set anti-spam standards.

They close in saying:

JamSpam is all about creating an industry-wide initiative to take action against the double-edged sword of spam now. Not tomorrow. Over the last two decades, the technology industry has proven time and time again that its members can set aside their competitive differences and work together to produce interoperable protocols that solve a mutual problem. It's about producing a protocol that not only solves a problem for everyone in the room. It's about the betterment of the entire Internet community. No other problem demands this sort of collaboration today like spam does. If there was ever a time to produce an anti-spam protocol that interoperates between the many email-enabled systems that are connected to the Internet, now is that time.

Check the website for more details. Join the anti-spam clan today!