---
| | |
| --- | --- |
| Saturday, March 17, 2007 | |
---
17 Mar 2007 @ 01:20
Constancia Salinas Layson, 86, beloved wife, mother, grandmother, and friend to all (AKA Tia Conching and Manang Connie) died on March 3, 2007, in Cathedral City, CA of stomach cancer. She was born January 29, 1926, in Tacloban City, Philippines. Her careers were varied, having worked as a censor for the U.S. Army during WWII, an elementary school teacher, a beautician, and a nurse's aide. She was honored as a lifetime member of the American Legion Auxiliary. Her passions included pets, organic gardening, Filipino cooking, and solving world problems by writing to politicians.

She was preceded in death by her husband of 44 years, John Conijar Layson. She is survived by five children:

Carolina Goodman (Sherman Oaks), Jesusa Langdon (Huntington Beach), John "Sonny" Layson, Jr. (Cathedral City), Letecia Layson (Ojai), and Dennis Layson (Desert Hot Springs); nine grandchildren, nine great-grandchildren, and her sisters, Francesca "Panching" Lozada (San Diego) and Elisa Salinas (Tacloban City, Philippines).

Visitation will be Sunday, March 11, 2007 from 1:00-4:00 p.m., with a rosary/novena at 2:00 p.m. at Wiefels Mortuary, 690 S. Vella Road, Palm Springs. Funeral Mass will be held on Monday, March 12, 2007, 11:00 a.m., at The Chapel at St. Theresa's Church, 2800 E. Ramon Road, Palm Springs. Burial will follow at Palm Springs Cemetery, 31705 Da Vall Drive, Cathedral City. The American Legion Auxiliary will sponsor a memorial reception at 400 N. Belardo Road, Palm Springs.
Published in The Desert Sun on 3/9/2007.

Guestbook


---
| | |
| --- | --- |
| Sunday, September 3, 2006 | |
---
3 Sep 2006 @ 10:43
Good Goddess!! Time has slipped away. I haven't disappeared, I have been spending as much time as possible near home. Spring and Summer I have spent time in the Creek moving rocks.

I feel inspired to begin sharing again. Plenty of news and things to happening in the world.

Glad to be back!


---
| | |
| --- | --- |
| Friday, November 21, 2003 | |
---

21 Nov 2003 @ 11:05
I escaped from a corporate data processing environment. As a project manager for a service bureau, I had plenty of practice finding bugs in software, or trying to use software in ways it was never intended to be used - I was creative, let's say.

I recall being challenged by one of my first mentors to try to break the system. He always said to me if I could find a way to 'stump' the system, it should not be on the market. And well, I felt free to explore both hardware and software. Together he and I collaborated to create a system for end users with little knowledge of computers or technology. It was a fun way to be appreciated for breaking things and to help in the de-bugging process.

Today Ming worked me through a bug that was eating one of my blog entries from 11/20 It's all better now, Thanks Ming!

And here is a different kind of bug story. One that is just as weird. And how did they get the funding to watch headless cockroachs race around?

COCKROACHES AFFECTED BY OLD AGE
Ananova November 19, 2003

Scientists have discovered cockroaches get doddery in their old age, just like humans.

In the first detailed study of insect ageing, researchers found that the bugs' joints seize up and they have trouble walking up hills.

American scientists noticed that cockroaches that survive into old age reduce the time they spend moving around by about 40%.

When the team put the insects on a mini treadmill, adults that had reached the ripe old age of 60 weeks took half as many steps per second as one-week old individuals.

Many of the old timers developed a stumbling gait as their front foot caught on their second leg.

Angela Ridgel, who led the study at Case Western Reserve University in Cleveland, Ohio, told New Scientist magazine: "It happens every couple of steps. It does slow them down."

The constant tripping happened because the insects' joints had stiffened up. By 65 weeks old, more than 80% of the cockroaches were tripping over themselves.

Old cockroaches also did badly at climbing a 45 degree slope. While all the younger insects managed the task, 58% of the older ones failed.

There was one rather drastic way to speed up an old cockroach, the researchers discovered.

Ridgel tested the ability of one cockroach species to run off when nudged. She found that elderly individuals were more likely to escape after being decapitated.

A different kind of bug:
We recently discovered Yellow Jackets nesting in the ground near the jujubee tree. These can be nasty and would like to get rid of them. There is plenty of land for us all to live in harmony. Just need to figure out a way to encourage them to leave and move else where. Any suggestions?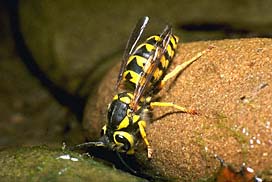 ---
| | |
| --- | --- |
| Thursday, November 20, 2003 | |
---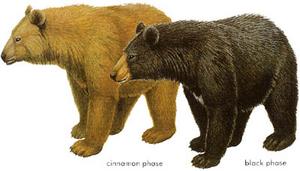 20 Nov 2003 @ 23:59
"Before enlightenment chop wood and carry water.
After enlightenment, chop wood and carry water."
--Wu Li

Since coming back from Glastonbury this Lammas season, I returned with an awareness that 'I can't do it alone". There are many things better and easier done with two people rather than just one person. Chopping wood is easier for me when two of us are working together.

It seems these days when I am outside doing garden work or work on the land, words are few. I appreciate nature's chorus, the creek, the wind through the trees, the insects buzzing around me and the feel of my body in motion.

Today Raymond came to help chop wood. Thanks so much R! I know you love this land too.

I drove into Los Angeles to do some COA work, meeting with my good friend, Dena. Then headed over to my sister's house for a cup of coffee (or two) to hold me over for the drive back into the canyon. Heartfelt connections are very important to me these days.

I was delighted with a bear sighting. Ted Andrews in his book Animal Speak says bear's keynote energy is . Awakening the Power of the Unconsious. In a previous article Candice Pert says that our body is our unconscious mind. Hmm, so I guess the power of my body is really waking! Yum!


---
| | |
| --- | --- |
| Tuesday, November 18, 2003 | |
---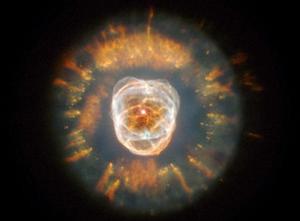 18 Nov 2003 @ 12:49
I just got off the phone with Julie. And I had just read Ming's blog entry about London where he and Julie met up with other bloggers. How I miss them being with me in California and our Synchronicity Vortex.

I am reminded how important it is to link in with people we love and who know our true nature. Though we may not be physically in the same place, we can feel connected through the web of life. We are different, yet the same. Having our own unique experiences and sharing a common energy that seems to be transforming us from the inside out.
I know the energy as Love. I know/trust they stand with me in this....


Moment of Change

I move through "no-thingness"
the Void
Chaos
Undone by my own making

I have arrived at the Inbetween place
The place of letting go
The full release
The Sacred Pause

Silence…

The mind wants to grasp an Edge
The edge of known reality
All shapes
And forms
Of "I"

Released from Particle to Wave
No where
And everywhere
Whirling around me the Past and the Future

I live in the Light of Change

I am in the Becoming

Letecia Layson
November 8, 2003
Taurus Full Moon Eclipse
Harmonic Concordance



---
| | |
| --- | --- |
| Tuesday, April 1, 2003 | |
---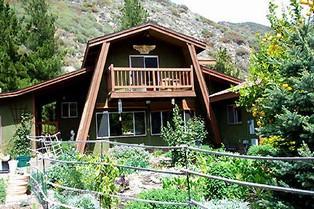 1 Apr 2003 @ 12:46
Raymond posted an article about the ENature Habitat page we set up for our house last year. It is great fun to log what is in your back yard and local vicinty. Living in the Los Padres National Forest, we see a lot of life. You can tell Spring is here with flowers blooming everywhere, bird, bees, butterflies grace the breezes.

We have started our Spring planting, with three new trees, almond, avocado and a grafted 4 in one apple tree. Every day we weed. (By the way, a weed is any plant growing where you don't want it to be growing.) In permaculture the plants that reseed them selves are called "volunteers" which you just move around to where you want the to grow.

Happy Spring!


---
| | |
| --- | --- |
| Thursday, March 13, 2003 | |
---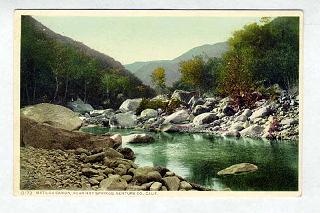 13 Mar 2003 @ 11:05
Ming's wrote about one of his favorite walks in the valley. It is amazing to find nature in an urban setting. I don't live in the LA area anymore, but visit often. This is the site I use to explore all the trails in an about the city.

We have great walking trails in Oaji. My walks these days take me into the Los Padres National Forest.

Ming, time for a visit to the duck pond? Well maybe when you return from France for sure!


---
| | |
| --- | --- |
| Tuesday, February 18, 2003 | |
---

18 Feb 2003 @ 15:43
What is V-day? I use to use this abbreviation for Valentine's Day, but Eve Ensler has taken V-day to another level:

"V-Day is a global movement to stop violence against women and girls. V-Day is a palpable energy, a fierce catalyst that promotes creative events to increase awareness, raise money, and revitalize the spirit of existing anti-violence organizations. V-Day generates broader attention for the fight to stop worldwide violence against women and girls including rape, battery, incest, female genital mutilation (FGM), and sexual slavery. V-Day provides funding to create and nurture innovative programs to stop the violence.

Through V-Day campaigns, local volunteers and college students produce annual benefit performances of "The Vagina Monologues" to raise awareness and funds for anti-violence groups within their own communities. V-Day itself stages large-scale benefits and promotes innovative gatherings and programs (The Afghan Women's Summit, The Stop Rape Contest, Indian Country Project, and more) to change social attitudes towards violence against women. In 2002, more than 800 V-Day benefit events were presented by local volunteer activists around the world, educating millions of people about the reality of violence against women and girls.

The V-Day movement is growing at a rapid pace throughout the world. V-Day, a non-profit corporation, distributes funds to grassroots, national, and international organizations and programs that work to stop violence against women and girls. V-Day was named one of Worth Magazine's "100 Best Charities" in 2001. In its first five years, the V-Day movement has raised over $14 million, with over $7 million raised in 2002 alone.

The 'V' in V-Day stands for Victory, Valentine and Vagina."

Raymond and I went to a local presentation in Ojai, CA of the Vagina Monologues in honor of V-day.

"I decided to talk to women about their vaginas, to do vagina interviews, which became vagina monologues. I talked with over two hundred women. I talked to older women, young women, married women, single women, lesbians, college professors, actors, corporate professionals, sex workers, African American women, Hispanic women, Asian American women, Native American women, Caucasian women, Jewish women. At first women, were reluctant to talk. They were a little shy. But once they got going, you couldn't stop them."
- Eve Ensler

Many thanks to Beverly Rose, producer; Leslie Paxton, Director; and the 15 cast members who had us laughing and crying. Funds raised benefited Ventura County Coalition to End Violence Against Women and Girls and The White Buffalo Calf Woman Society, Inc

One of my more unusual Valentine's day celebrations. I wore Red Velvet. More >


---
| | |
| --- | --- |
| Wednesday, February 12, 2003 | |
---

12 Feb 2003 @ 17:46
Today is my birthday! Yipee....a perfect day to "officially" launch my blog.

I woke up this morning with gratitude for all that is in my life. Thanks to my parents for bringing me into this world. I am my mother's daughter in more ways than one, take a look for yourself to see the resemblance More >